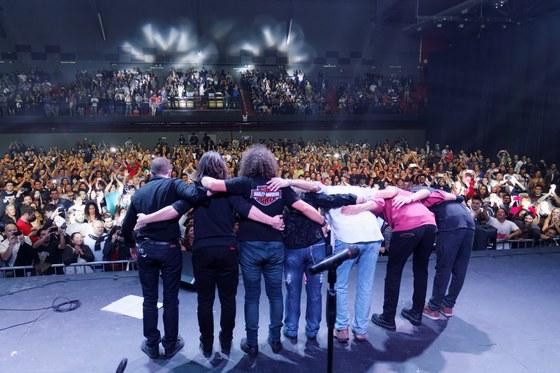 Barilari & JAF : Un show inolvidable
El sábado pasado se presentaron en nuestra provincia dos grandes figuras y voces , nada menos que Adrian Barilari y Jaf .No averiguamos nada sobre el show , queríamos que la noche nos sorprendiera , pero sabiendo del calibre de músicos que estaban sobre el escenario no nos iba a defraudar.
Cerca de las 21:30 ingresamos al Stadium Arena Maipu , y casi siendo las 22:30 se apagaron las luces y segundos después comenzó el show con "Shock Me all night long" (AC/DC).En una de las pausas, Jaf hablo con el publico y le informo que el show habia sido caratulado como ATP (apto para todo publico) por lo cual se habilito la platea superior para que todos los menores de edad pudieron disfrutar de una noche especial , ya que como Juan Antonio Ferreyra lo aclaraba lo que hacían era solo música y nada más.
El show contó con bromas cómplices entre ambos cantantes , como cuando un par de fans con alopecia como JAF le pedían las púas de guitarra y el las entregaba sin chistar , y Barilari agregaba que lo hacia ya que estaban en la misma situación que Juan, ante tal situacion las risas emanaron del publico.Pero también Ferreyra retruco que Barilari se habia comido un sándwich de jamón en una estación de servicio y que quizás lo veían mas rellenito y otras tantas más , en las cuales desplegaron toda su simpatía y complicidad con todo el publico que copo el Arena.
Todas las canciones fueron temas clásicos de bandas como Foreigner, Chicago,Riff , The Beatles, Kansas, Credence Clearwater Revival y Jhonny Rivers entre otras , versionadas al español y con el toque personal de ambas voces.Que tuvieron una gran ejecución de parte de la banda que los acompañaba integrada por Beto Topini en batería, Pablo Santos en bajo, Guillermo De Medio en teclados, Darío Casciaro en guitarra, Mario González en percusión y Federico Penzotti Norzi en teclados.En el setlist que regalaron al publico figuraban temas como "Forever Young" , "I Want to Know what Love is" , "Hotel California", "Get Back" , "La Espada Sagrada", "Wonderfull Tonight" de Eric Clapton convertido en un clásico de JAF en 1990.
Acabarían el show con "Sure know something" (Kiss) y "Addicted To Love" (Robert Palmer). Y nuestra revista tendría la exclusividad de tomar las fotos finales de la presentación. Una noche soñada para todos los fans presentes y también para nosotros.
Fotografía y Crónica : Daniel Torrico