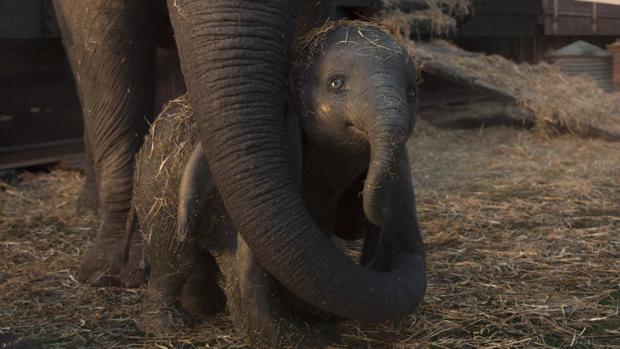 Fotografía: Disney
El Dumbo original de 1941 siempre ha sido una de las historias más tristes de Disney . El bebé elefante con orejas gigantescas es ridiculizado casi inmediatamente después de nacer, y se separa de su madre cuando ella trata de protegerlo. El remake de acción en vivo del director Tim Burton en 2019 hace que la historia sea aún más oscura, centrándose en un elenco humano que también lucha con la tragedia.
Mientras que el clásico animado tenía a Dumbo y un ratón parlante llamado Timothy como los principales protagonistas, el nuevo Dumbo se centra en una familia encargada de proteger al bebé elefante. El artista de circo Holt Farrier ( Colin Farrell ) regresa a la gran carpa después de una temporada en el ejército, pero con su vida alterada radicalmente por la muerte de su esposa y la pérdida de su brazo. Sus hijos, el centrado en la ciencia Milly Farrier (Nico Parker) y el juguetón Joe Farrier (Finley Hobbins), tuvieron que procesar la muerte de su madre mientras su padre estaba ausente, y toda la familia necesita encontrar un nuevo rol para llegar a fin de mes. .
Ah, y el maestro de ceremonias Max Medici ( Danny DeVito ), quiere que la familia se ponga a trabajar inmediatamente después de su reunión y empiece a cuidar de los elefantes de circo.
Si esto suena sombrío, es porque lo es. Pero Dumbo a diferencia de la película original en la que el elefante tarda en volar en público por el aire, este pequeño bebé se eleva rápidamente después de que es arrancado de la madre elefante, la Sra. Jumbo. Ese talento, los niños esperan, podría ser la clave para reunir a Dumbo con su madre.
El propio Dumbo es claramente un CGI, orejas flexibles, ojos expresivos y todo. Pero, de manera impresionante, se ajusta a la estética de los entornos del mundo real en los que se encuentra. No, el elefante no habla y tampoco tiene un Timothy parlante, pero Milly y Joe cumplen ese rol como amigos del bebé. Además, los diversos entornos circenses son coloridos, y se vuelven aún más complejos a medida que Dumbo se presenta para audiencias más grandes. Una hermosa secuencia de burbujas es un punto culminante particular que recuerda a la psicodélica Pink Elephants On Parade de la película original, afortunadamente sin intoxicar a un bebé elefante esta vez.
El elenco es divertido y colorido, con los personajes más memorables, como la encantadora trapecista Colette Marchant ( Eva Green ) y la despiadada VA Vandevere ( Michael Keaton ) destacando la segunda mitad de la película.
Pero otros tienen una tendencia a jugar solo versiones de sí mismos, específicamente DeVito, quien siente que se le ordenó hacer que el personaje fuera suyo. Si amas a DeVito's Frank de la manera más orientada a los adultos,It's Always Sunny in Philadelphia, todavía disfrutarás de esta versión con clasificación PG. Si no lo haces, no puedes escapar.
Los tres personajes principales, Farrell's Holt y ambos niños, salen perdiendo ante el resto del circo en términos de desarrollo general. Especialmente cuando la película alcanza su tercer acto, en el que los tres terminan en situaciones sustancialmente más peligrosas de lo que parece lógico para la historia.
Hay muerte, destrucción y mucho fuego, con varios momentos que simplemente los harán sentir incómodos por la seguridad de un bebé elefante y los personajes principales. Ambos niños parecen literalmente encontrarse en momentos potencialmente peligrosos varias veces.
Burton tiene una historia de películas que juegan con temas oscuros y estados de ánimo, como The Nightmare Before Christmas , Beetlejuice , Charlie and the Chocolate Factory y Frankenweenie . Pero Dumbo no alcanza ese equilibrio, y gran parte de él se siente un poco perdido en la oscuridad. Incluso el final, que no voy a estropear explícitamente, tiene un leve indicio de horror que no hubiera esperado.
Dumbo abrió en los EE. UU. El viernes después de haber abierto ya en el Reino Unido y en varios otros países.