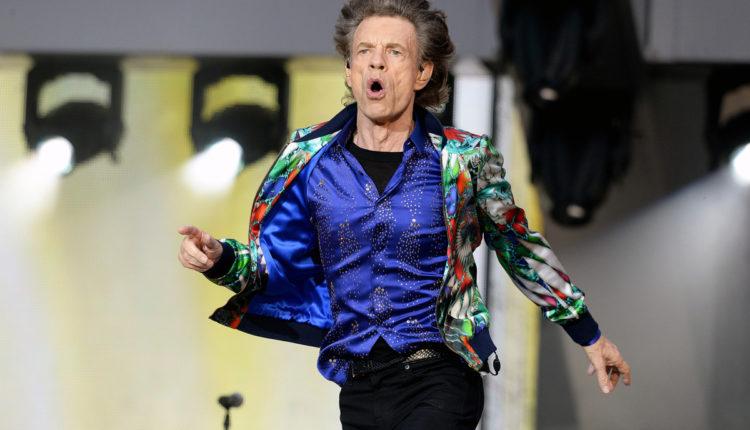 Fotografía: Getty Images
Mick Jagger busca tratamiento hospitalario, y pospone la gira de los Rolling Stones
Mick está enfermo y los Stones no están rodando.
Los legendarios rockeros pospusieron su gira por Norteamérica el sábado luego de que el ícono de 75 años de edad, Mick Jagger, fuera diagnosticado con una enfermedad no revelada.
Apenas tres semanas antes de que se suponía que el grupo comenzaría la gira, los médicos le recomendaron al icónico líder que descanse mientras recibe tratamiento médico no especificado en los Estados Unidos.
«Los doctores le han dicho a Mick que no puede salir de gira en este momento, ya que necesita tratamiento médico», dijo la banda en un comunicado el sábado .
Una fuente de la industria musical dijo que los médicos descubrieron el problema cuando Jagger se sometió a un chequeo previo a la gira.
La fuente dijo que los médicos «encontraron algo» que requería «atención inmediata» y le dijeron al cantante que necesitaba tratamiento en un hospital de EE. UU.
Se le ha dicho a Jagger que hará una «recuperación completa para poder volver al escenario tan pronto como sea posible», según el comunicado de la banda.
«Esto no es algo serio», insistió una fuente cercana a la banda, y señaló que los fanáticos deberían conservar sus boletos porque los Stones están «en el proceso de volver a reservar» las 17 fechas eliminadas de su gira «No Filter» .
La gira se había programado para comenzar el 20 de abril en Miami y llegar al MetLife Stadium para los conciertos del 13 de junio y el 17 de junio.
Jagger dijo en el comunicado publicado en las redes sociales el sábado por la mañana : «Realmente odio decepcionarlos así». Estoy devastado por tener que posponer la gira, pero trabajaré muy duro para volver a la carretera tan pronto como pueda. Una vez más, enormes disculpas a todos ".
A pesar de su problema de salud, el Stone marginado ha estado haciendo de las suyas. Jagger y sus compañeros de la banda tuvieron una cena tranquila en el restaurante y el club privado Casa Tua de Miami el viernes por la noche.
Un testigo dijo que la banda y su séquito tomaron una mesa de 10 en el área privada de arriba, tuvieron una «cena tranquila por unas dos horas» y luego se fueron. Jagger parecía «un poco cansado, pero por lo demás, era su persona habitual», dijo el testigo.
Jagger también fue visto en una cena de negocios en el restaurante japonés Stephen Starr Makoto en Miami el lunes.
Los testigos dijeron que fue abordado por un súper fan que tenía un tatuaje de los icónicos labios y el logotipo en la lengua de la banda que cubría toda su espalda. Mick lo firmó.
El fan le dijo a Jagger que haría que un tatuador hiciera la firma permanente.
A finales de febrero, Jagger y su novia bailarina Melanie Hamrick celebraron su nuevo proyecto, un ballet ambientado con la música de The Stones, en The Fleur Room, en la parte superior del nuevo hotel Moxy Chelsea.
Hamrick, quien baila con el American Ballet Theatre, pasó la noche mezclándose con sus compañeros bailarinas de Nueva York, como Calvin Royal III, April Giangeruso, Herman Cornejo y Brittany DeGrofft.
Pasó la noche acurrucándose con Jagger y mezclándose con sus compañeros bailarinas de Nueva York, como Calvin Royal III, April Giangeruso, Herman Cornejo y Brittany DeGrofft.
La estrella de los Stones estaba feliz de tener a su amor en el centro del escenario por la noche. Dijo que «simplemente dejé que ella hiciera lo suyo», cuando se trataba de seleccionar la música y coreografiar los números para el espectáculo.
Los huéspedes tomaron unos cocteles de ginebra Pretty in Pink, exclusivo de The Fleur Room, mientras admiran las vistas de la ciudad desde sus ventanales.