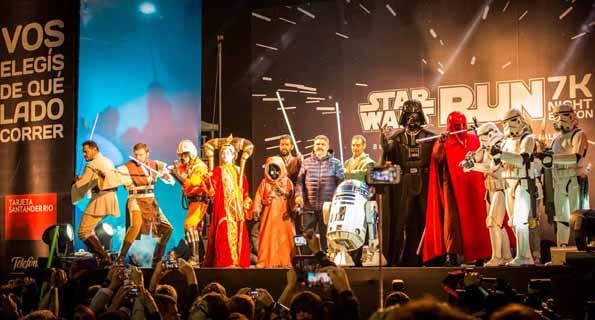 La carrera nocturna transcurrió ayer 8 de mayo en el Hipódromo Argentino de Palermo
Buenos Aires, 9 de mayo 2015.- Con inscripciones agotadas, ayer se realizó STAR WARS RUN, Night Edition, la carrera de 7K en la que participaron más de 10.000 personas -corredores, fanáticos de STAR WARS, familias y amigos- . Este multitudinario evento dio cierre a los festejos del Día de Star Wars (May the 4th be with you™) en el país.
Cada corredor tuvo la oportunidad de elegir de qué lado de La Fuerza correr. En la largada, y como si se tratara de Sables de Luz, ambos lados se mezclaron dando lugar a un gran espectáculo para aquellos que observaban desde las gradas del Hipódromo Argentino de Palermo.
Este es el segundo año en que el público de Buenos Aires ha podido correr y celebrar con su familia y amigos el Día de Star Wars, en una carrera especialmente diseñada para los fans de la saga intergaláctica. Los asistentes a STAR WARS RUN participaron de desafíos para poner a prueba su conocimiento de STAR WARS; disfrutaron de videos especiales; pudieron fotografiarse con personajes y compartieron diversas actividades relacionadas a la historia de STAR WARS.
El evento estuvo conducido por Sebastián De Caro, quién además presentó el premio al Mejor Traje en el que resultó ganadora Antonella Dobler por su traje de Visas Marr. También presentó los premios a los corredores que se destacaron en las distintas categorías.
Ganadores categoría General Masculina: Dante Mansilla (Número: 1908 / Tiempo 23m59s); Gastón Maldonado (Número: 3627 / Tiempo 25m11s); Matías Castro (Número: 5811 / Tiempo 25m39s)
Ganadores categoría General Femenina: María Gabriela Landini (Número: 1784 / Tiempo 30m08s); Marcela Cuello (Número: 1709 / Tiempo 30m41s) ; Mónica Mariel Insaurraldi (Número: 4059 / Tiempo: 31m05s)
[justified_image_grid facebook_id=230206980355921 facebook_album=883751728334773 facebook_caching=10080]